CENTENARY CELEBRATIONS
Robert Rawe celebrated Aston Martin's 100 years in perfect style by winning the main event at Brands Hatch on the 7th of July. The Aston Martin Historic Centenary Race for Astons up to 1966 included 2 project cars, 4 DB4GTs, Robert's DB4GT Zagato and a competitive mix of DB4s, Feltham and pre-war cars. The race, on the challenging Grand Prix Circuit, was a nail-biter with the lead changing hands many times and 1.3 seconds covering the top 3 at the finish. Nick Naismith (DB4) and Paul Drayson (DB4GT) kept Robert very busy until the finish of the 30 minute contest. "This is only the second race for the car and it is bloody brilliant" said a hot, but jubilant Robert on the podium.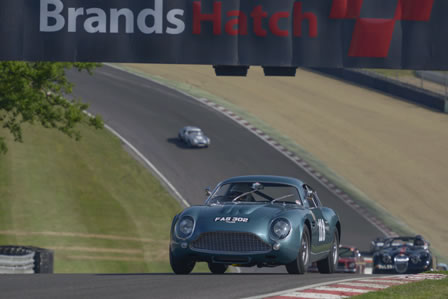 The stunning DB4GT Zagato is right at home on the Brands Hatch GP circuit
John Retter Photography Limited.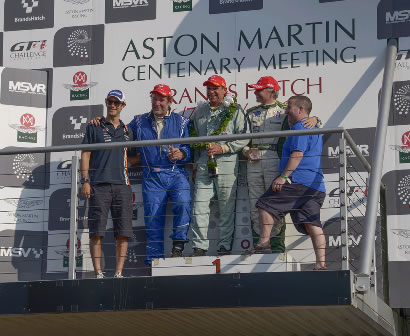 Robert Rawe, Nick Naismith and Paul Drayson enjoy the taste of Champagne after a thrilling race
John Retter Photography Limited.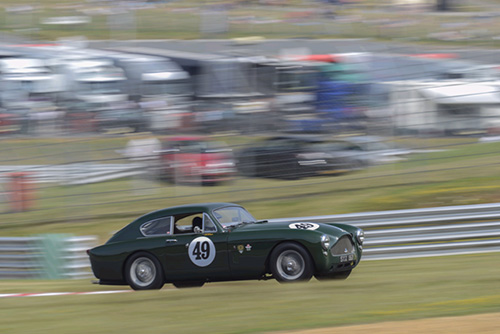 John Retter Photography Limited.
Team Woodgate were also on hand to lend support to Jon Gross competing with his Elva Courier in the Ecurie GTS race and the DB MkIII in the Aston Martin Historic Centenary Race. The much-admired Project 214 replica and Nick King's lightweight DB4 completed the mouth-watering display.