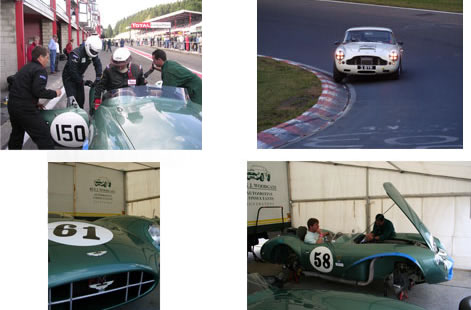 Race & Track Day Support
The team at Woodgates is in action most weekends throughout the racing season either at UK circuits or at events in Europe providing race car delivery, full mechanical support, pit management, hospitality, travel, accommodation and even co-driver support. Recent event support has seen the team in action at all AMOC events looking after a DB3S, DBR1, DB MkIII, DB4GT, DB4 Lightweight, and a number of others. The Goodwood Revival traditionally has 2/3 Woodgate cars at this prestigious event. Support for clients at European events will see us at Spa and the Nurburgring at least twice a year, at the Le Mans 24 hr support race and the Le Mans Classic, Zolder, Hockenheim, Dijon and occasionally at the Mille Miglia and Pau.
We would be very pleased to discuss your racing plans for the full season or just one event and can advise on everything from car transportation and logistics to full race team support.