GOODWOOD & SPA
FULL ON FORTNIGHT
We had our work cut out yet again mid-September as two of the most prestigious race meetings ran ' back to back '.
At Goodwood, David Bennett ran his recently acquired Production DB3S, again sharing duties with Richard Hope and Chris was fortunate enough to grab a seat alongside Mark Midgley in DB3/6.
As reported, it was a shock that this was to be a farewell outing for Jon Gross in his DB MKIII.
All cars ran faultlessly, despite horrendously wet conditions in the Friday ' Into the Night ' encounter.
A quick turn around saw us off to Spa for the popular ' 6 Hour ' meeting. It was the inaugural outing for both the Mark Midgley Elva MK. 7S and the Robert Rawe P214 recreation, joined by Woodcote Trophy contender DB3/6 and Gentleman Driver DB4GT Zagato Replica. The little Elva was a real eye-opener, with Chris just a few seconds off the sister car piloted by ' Pro ' Joe Twyman and the Midgley/Woodgate DB3 cruised to a Class Win. Unfortunately having tested and qualified impressively, the maiden run for Roberts P214 Replica was sidelined with throttle cable issues. Happily his Zagato ran ' like a train ' to the flag.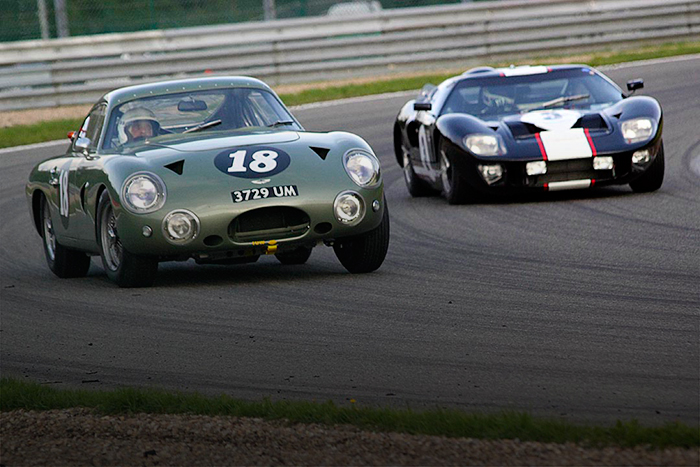 Robert Rawe enjoying his first race in the P 214 recreation in the Spa 6 hour.
FINISH AS WE STARTED
This racing season closed with the fantastic Autumn Classic meeting at Castle Combe. The two cars in attendance from the ' Woodgate Stable ' were David Bennetts beautiful DB3S and Mark Midgleys rapid DB3 – generously loaned to Chris Woodgate for the weekend.
Amazingly for October the weather was as kind to us as the previous year and both cars ran faultlessly.
David had intended to run is A.C. in the FISCAR Race but due to circumstances utilised his DB3S both for that race and the Historic Aston Martin encounter. He ran strongly in both races despite this being only the third outing in this Chassis. Mark Midgleys DB3 dominated the Aston Martin race with Pole Position, Race Win and New Class Lap Record.
Many thanks to Mark for allowing us to win in the same style as the opening VSCC meeting of 2013.
Many thanks to all our valued Customers for another successful season.
A Merry Christmas and Best Wishes for 2014 to all
Chris and ' The Team '